When claiming a band is "real indie", there is always a risk of being perceived as pompous, because a "real" indie artist probably wouldn't claim themselves as such. So first of all, the members of Tangerine didn't make this claim because they are genuinely too badass for that. And to make things clear: here is the definition of "real Indie" on our street:
An artist or group who is authentic and effortlessly cool while embracing the beautiful tight rope walk of creative expression and financial sustainability.
We were lucky enough to be invited to a garage venue at SXSW this year that made the artists and attendees feel like they stumbled upon a truly independent event. The small home was hidden in the outshoots of Austin, where only faint sounds of the huge crowds and Bud Light promotions could be heard in the distance. This is not to take away anything from SXSW and its efforts, the festival has just grown to such enormity that there is probably enough room to hold a second even more indie festival along side of it ala Slamdance/Sundance.
At this venue, this budding Indie pop band from Seattle, WA literally rocked the house. The burgers and dogs, the sweat drops flying from the musicians (naturally they had to keep the garage door shut since the cops had already given a warning), and the accessibility of the artists after the show all added up to a rekindled love affair with the Indie Rock show. I felt like a kid in the candy store, so naturally I filled up my now empty 20 oz can of Uber road soda and cooled myself down with whatever was in the keg.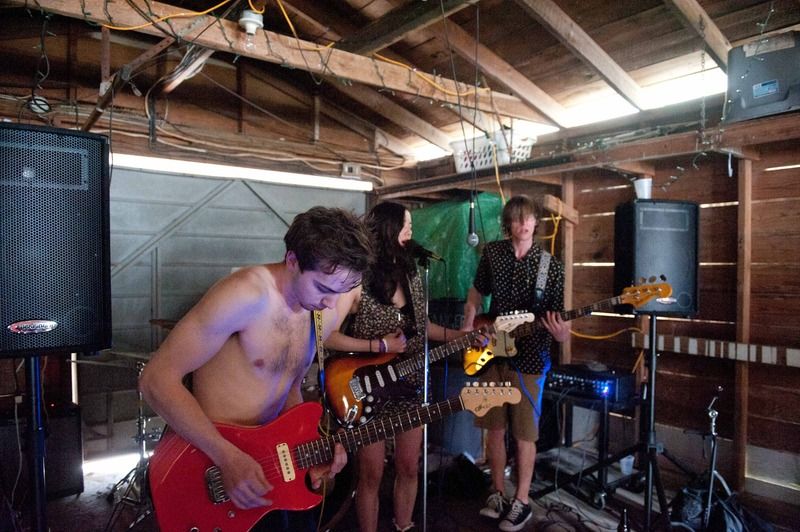 Getting to sit with the band after gave me re-assurance of what they were as musicians and people (which usually go hand and hand).
They were impressive on stage and authentically weird and magnetic while sitting on the lawn.
Here is one of their music videos, so you can judge them musically for yourself...their ripping lead guitarist is probably the featured talent amongst a group of very fun and talented musical artists.
Below is my brief interview with the lead singer, Marika where she talks about the band and their naviagtion of the Indie distribution landscape:
JWebb: How did Tangerine get started?
Marika: well Miro and I are sisters, and having been jamming on our instruments together since we were maybe 11 and 13 years old. I met Toby in high school and found that he's probably my favorite person to write music with. A couple years ago we decided to form Tangerine. I had just started working with Ryan, we booked bands for our university, and it was sort of like fate- he was a bass player looking for band right when we needed one. It all came together very naturally and it's honestly just been a lot of fun since day one.
JWebb: Who are some bands that have inspired you, and name a few non-existing band names of the future that you would love to inspire.
Marika: There's so many bands that have inspired what we do it's hard to know where to start..mazzy star, hole, haim, breeders, black lips, charli xcx, el perro del mar, velvet underground, sky ferreira, hinds, max martin, the strokes, lana del rey, lorde to name a few! As I said before, I'm inspired by things from both ends of the spectrum: everything from Taylor Swift to the Clash and the Strokes. Our music is kind of a melting pot.
As for future band names that we'd love to inspire...I've never been asked that before haha. Maybe we'll inspire more fruit-based names? There could be a whole fruit-based revolution. When I was sixteen i thought Leopard Limo was a great band name. No one else did though.
JWebb: We were lucky enough to watch one of your shows at a house garage venue at SXSW which really was an amazing intimate experience. How have you guys tried to balance "Staying indie" with the very real world need for artists to continue to generate revenue.
Marika: That was such a fun show! I'm glad you guys were able to make it, we love Austin. Musically, we naturally end up in a place that sort of straddles the indie/pop worlds. I like to think of our music as the Breeders meets the Strokes meets Charlie XCX. We've played some really amazing venues and some super DIY dingy spots and at the end of the day if the crowd is feeling it and giving off great vibes that's what makes it a good show.
JWebb: From your experience to date do you feel that it is more effective to hit the pavement and concentrate locally or have you found that there are any unexpected demographics or regions that have discovered and loved your music from internet sources.
Marika: Honestly we've wondered ourselves what's most important and I'm not sure I can give you an answer. the internet is amazing in terms of connecting you with people across large distances- we've been interviewed by people in the UK and have sold digital downloads all around the world, in places we've never been to. Nothing beats connecting with people in person on tour though.
JWebb: What has been your most successful fan building technique in the digital/internet realm? Any type of social media you guys really dislike?
Marika: facebook has been really instrumental in us reaching people but it's also incredibly frustrating. sometimes a huge number of people will see something you post from it, and sometimes almost no one will and it feels very arbitrary. I'm pretty sure it's all a ploy to convince you to pay for sponsored ads.
JWebb: Quick Story time - what is the best story that the band or one of its members has had (could be funny, inspiring, frightening, or all of above)
Marika: I'll keep this short because it's not really my story to tell but both Toby and Ryan have been robbed at gunpoint at different times. One of the stories is way more fucked up than the other but I think i'll leave that to your imagination. They both lived to laugh about it!
And the growing Tangerine band fan base is stoked about that! Sitting on the dirt patch outside the garage was really one of those moments where you feel you might be hanging with some people who are destined for greatness...and even if that train doesn't come fully into the station, it was still great to meet some genuinely cool people. I think their bass player summed up the gist of what it takes to be a real indie success. He told me his first key was to get honest about what kind of music you personally like and move your head too. Most of the stuff he listened to actually had some pop elements with a catchy beat and tempo. Trying to go completely outside of what you honestly jive to is doing a disservice to your work, your fans and in this case your wallet even. He explained that staying indie was more simply to stay working, because most musical artists have to pay rent and eat food to survive, which Indie filmmakers can relate to since we are also human! So mixing up venues from bars to garages to sponsored festival stages is all a part of it, while you work your ass of to collaborate and make music that you are proud of and that your growing fan base will love.
- Jay Webb, Indie Street.
You can follow all things Tangerine on Facebook. (photography by Nina Christensen)