In only a few short years, Franco-Argentine filmmaker Gaspar Noé has become a notorious go-to director for disturbing, boundary pushing material, even brutally so with 2002's "Irreversible".  After his recent 2010 psychedelic, drug-infused thriller "Enter the Void", it only seemed fair to anticipate Noé's next offering, a raw film about a love story complete with very up-close and personal sex scenes.  However, amongst the slew of melancholic scenes of longing and sex aplenty, complete with all the fixings, "Love" stills manages to come across as one of Noé's more subdued, bridled works.  "Love" is a film as potentially titillating as it is aggravating in its mechanical and one note depiction of the fusion of love and intimacy.  It's a sex film with an energetic void in place of a heart.  A deconstruction of "Love" leaves us with a premise and backstory that is rather simple.  Noé sticks our main character, a self-reflexive, American film student named Murphy (Karl Glusman), in Paris.  He's an appreciative lover of European culture (and women) but still has the relentless pride and ignorance of an American.  As is the natural progression of a love story, boy meets girl.  Electra (Aomi Muyock), a freeloving, fiery French artist, becomes Murphy's obsession and the catalyst for his own downfall.  When Murphy becomes entranced with the young girl next door (another new comer, Klara Kristin), his life becomes a series of disenchanted normalities, calling for a serious session of reflection. This is where we enter the story. Here, the beginning of the film is the end of Murphy's narrative.  In the present day, Murphy, now a father and husband within a loveless marriage with the once tempting neighbor, receives a call saying Electra is missing.  Fearing the worse, possibly even suicide, we journey back in time with him and revisit where their relationship (and subsequently his life) blossomed and then suddenly went wrong.  Muyock, Glusman and Kristin have no inhibitions in their breakthrough roles as newcomers, and do their very best with the material they were given.  With such honesty and raw storytelling, it's hard to say which twist and turn is to blame for the story's faltering progression and tediousness. In various interviews, Noé explains the onslaught of sex within this film is a reflection of some sense of reality. However, when you strip it all down and just look at the story, reality just seems tired amongst all of the gimmick. Perhaps with a film like "Love", one that could haphazardly rest within the mainstream art house genre, its legacy will never be about actual talent.  It will live on briefly as a conversation piece, a semi-notorious cult film in a sea of other boundary pushing films of its kind.  I, for one, did not partake in seeing this film within its intended theatrical 3D setting.  I chose to watch it on the small screen, a personal experience without the constant shame and distraction of watching within a crowd of questionable audience goers.  However, the idea of voyeurism quickly morphed into tedious work.  At the very end, there's a glimmer of something - a deep sense of loss fills the screen, as Murphy mourns much more than a past girlfriend.  He mourns the loss of life and motivation - something that, if touched upon deeper, could have made this a film with far greater impact.  
   If you can't manage to see the film in 3D or on the big screen (really, don't worry yourself about it), the provocative, luring drama "Love" is available on several VOD platforms, including Vimeo on Demand through its distributor, Alchemy.  Noé explains that banning a film (which was the case in some places with "Love") gives it a sense of intrigue and mystery, making people want to see it more.  Take that as you will, but go in warned and be prepared: sex, sex, sex, a little story, a touch of melancholy and more tedious sex await.
A cathartically paced portrait of a community branded by its own self-aware dependency on prescription drugs, Sean Dunne's directorial feature film debut, "Oxyana", is a controversial yet necessary and affecting offering. The film plays out like a patient yet evocative conversation that lets the audience draw their own opinions. Dunne's documentary portraits Oceana, a small once thriving coal mining town in the Appalachian mountains of West Virginia. This is a community that that has been so stricken by prescription pill epidemic that it's residences have nicknamed it Oxyana. What we see is a people shaped by a failed system and the failed war on drugs.
Recognizing the innate beauty of Oceana and its surrounding areas, it doesn't take long to also recognize the ghostly reminder of what once. As Dunne states, "Yet there it was, a constant and growing hum of anxiety. So we started to ask questions, and we started to get answers, all pointing towards a familiar narrative." By leaving the camera on the subjects of the film and allowing their words to naturally flow, you get an honest, staunch depiction of dependency and addiction through the eyes of the ones that are suffering. We get their stories, and it's a heartbreaking reality to face.
Winner of the 2013 Tribeca Film Festival Best New Documentary Director Award, clearly both "Oxyana" and Dunne have earned their prestige. It is because this is a film that is as hauntingly memorable as it is a pretty necessary conversation starter to have on the film scene. It doesn't set up the film's subjects as failures of society to be laughed off and forgotten. It sets them up as tragic heroes, failed by something way bigger than we can imagine. The secrets buried deep within the rolling mountains and forests of this West Virginian region are laid bare, raw and untouched. In "Oxyana", scandal and sensationalism are pushed aside for the true depth and revelation of honesty, pain, and darkness suffered through drug addiction. Dunne's skillful ability to uncover that realistic, objective narrative regarding the outskirts of America is on full display. Produced by Cass Greener and Nadine Brown, "Oxyana" is being re-released on VOD and is truly a masterful, meditative documentary worth the watch, if only to see how well Oceana finds and displays its own unique, troubled voice for the rest of the world to try and understand.
Quite the unparalleled cinematic offering, Kornél Mundruczó's "White God" and its plot can actually be summarized in a fairly straightforward manner: Girl loves dog. Dog trusts girl. Girl's Father, as well as the rest of society, scorns dog. Dog, after experiencing the harsh realities of life, trains, rounds up a military-like legion of mutts, and goes on a revenge-seeking rampage. While the synopsis flows off the tongue like the reciting of a campy, B-movie plot, "White God" is anything but that. It's locked and loaded, unrelenting in its depiction of both a girl and her dog's adjustments to the injustices and changes around them. Below the surface, this is also a curiously metaphorical depiction of social inequalities within contemporary Europe. Telling this through the guise of a dog lover's revenge flick, be warned: "White God" is no "Homeward Bound".
We enter into this sort of part familiar, part darker reality as 13-year-old Lili (Zsófia Psotta) and her dog Hagen are temporarily left in the care of her father Daniel (Sándor Zsótér). When Daniel refuses to pay the taxes necessary to keep the mix breed dog at home, he promptly releases the mutt out into the wild, unknowingly starting an eye opening turn of events for the whole city. As Hagen starts to experience brutality at the hands of humans, he becomes the scene stealer of the film. Lili also stands out with her own particular stoic, rebellious demeanor. Her growth as a teenager is told in parallel with Hagen's own dog troubles, creating an interesting narrative formula. Sometimes the parallel storytelling has its flaws, but as the credits play, it's hard to find fault. For this, credit should be given to the trainers that managed to create dog-centric scenes that were often more captivating than any shared between the human actors. Luke and Bodie, the two mixed breed dogs that shared the role of Hagen, are remarkable. That Mundruczó and crew were able to create moments where you actually feel the dogs' emotions exuding from the screen is a feat well worth applauding.
Winner of the Un Certain Regard prize at the 2014 Cannes Film Festival, "White God" easily fits within the award's predilection for original and different work. It's a gripping fantasy about a world where humans, so often asserting their authority as an all-powerful being, are finally punished for their "sins". Whether we are talking dogs or just using them as a metaphor for ethnic inequality, the message is clear. Now widely available on several VOD platforms, "White God" is the type of filmic fare that should be consumed, if only to finally see the hand that feeds get rightfully bitten back.
White God – Hungary, 121 MINS
Directed by Kornél Mundruczó
Starring Zsófia Psotta and Sándor Zsótér
Link to Trailer: https://vimeo.com/114052375
Link to VOD Links (July 28, 2015 Release): http://www.magpictures.com/whitegod/
One mind's manifestations, challenged by new and total blindness, are the main focus of Eskil Vogt's highly inspired debut drama "Blind". A somewhat self-reflexive portrait of one woman's creative struggle with recent loss of vision, the film explores the consequences of both sightlessness and loneliness. With the shutting down of one sense, every other sense becomes heightened. Taking this direction, "Blind" allows the audience an amplified and surreal viewing experience completely withdrawn into fantasy.
The film follows newly blind Ingrid, played by standout Ellen Dorrit Petersen, as she copes with the darkness by embracing her vivid imagination. We learn early on that Ingrid's blindness came without much warning. She now spends her days constantly awaiting the return of her elusive architect husband, Morten (Henrik Rafaelsen). During his absence, and sometimes even in his presence, she imagines the world he must surely be inhabiting, or craving to inhabit. Is he present in the room, secretly watching her, or is he off seeking physical satisfaction from other women? These doubts are what drive the entire film and start to create the nuanced narratives and characters within her mind. Ingrid's narration introduces us to two peripheral characters: a single mother and a porn addicted loner. These characters, complete with backstories, effortlessly blend into both her imagined world and reality with Morten. It's not until the absurdity of her creations start to unravel into more serious territory that we see the true reality behind her paranoia.
Bathed in a whitened glow, the ethereal Petersen creates an almost animalistic Ingrid. Hungry for knowledge of the space around her, we become part of her desperation and playful demeanor. As Ingrid states at the beginning: "They say that my ability to visualize will fade away. That the optic lens wither without new impressions ... but I can maintain it". And maintain it she does. Like one of the film's standout scenes, we stand with Ingrid, pressed against the surface of her apartment window, craving to see and be seen. Currently available on DVD and UK/Ireland VOD platforms, Vogt has created a debut film that leaves behind a haunting, lingering memory of derailed reality long after watching.
Reviewed By: Indie Street's Sarah Rice
I Believe in Unicorns Film Review: an honest, raw look at how it
With a title like "I Believe in Unicorns", audiences could easily be forgiven for expecting light, cheery fare. It's easy to see the fairytale charm on the surface of this story as it is the bind that visually holds the narrative's progression together. However, there is also a darker reality behind that whimsy. This is more than your classic tale of young love and the intertwining magic that accompanies it. Director Leah Meyerhoff's offering often steers away from solely being a positive portrayal of love in order to show a much more raw perspective. In this world of unicorns and fantasy, reality steps in to help tell the tale of a lustrous young girl's sexual awakening.
As we are introduced to Davina (Natalia Dyer), we see the juxtaposition of her life: she is left both naïve and hardened by her home situation. She exists as the sole caretaker of her disabled mother but constantly dreams of escaping that reality. This has left her no choice but to escape via her vivid imagination. As we get to know her character, we enter into her creation - an animated fairytale of unicorns and dragons. Dyer is able to realistically embody that dueling mix of endearing youth and caged maturity evident within Davina. However, this all starts to change when she falls in love with an older skateboarding punk named Sterling (Peter Vack). Abandoned by his abusive father, Sterling draws Davina in with his carefree, dangerous attitude. He's everything her world hasn't been able to be. And as soon as they set their sights on each other, their wild and mad journey begins.
There is something candidly real about this relationship as they discover each other and parts of themselves. As the second half of the film shifts into more of a road trip movie, we twist down a road that starts to reveal more of its winding curves. The contrast between the two lovers as they escape their pasts complements the fight between reality and fantasy constantly going on within Davina's mind. By escaping reality, they ironically get closer to their real existence. As Sterling falls back on the abusive traits learned from his upbringing, fear starts to interrupt Davina's fantasies, leaving her to crawl back into a now tainted, made up world.
Together, Director Leah Meyerhoff and actress Natalia Dyer make a visceral duo. Meyerhoff's direction coupled with Dyer's natural approach to her character's transition is evocative. Meyerhoff is able to create a disarmingly simple yet complex world that, as a female director, enables her to show this story through the eyes of female youth and wonder. Yet, this isn't simply a story about a curious girl. This is the story of a girl that wants to chase more, and for the first time in her life, feel more. Her sexual awakening paints a nuanced portrait of a headstrong girl that gets in a bit over her head. For both Davina and Sterling, upbringing has stained every part of their existence: past, present and future. And at the end, as their road trip screeches to a halt, the weight of reality falls hard. Fantasies must end. We want a return to the safety of our initial understanding of our main female character. We want, at least for now, her innocence restructured.
Sometimes "I Believe in Unicorns" gets lost within its own brand of whimsy. However, beneath the hazy glow of its cinematography, this is effectively an honest, raw look at how it feels to grow up. Similar to the mythical unicorn, Davina is like a beautiful, misunderstood creature. It's through her eyes that the audience is guided on a voyage into the very human concepts of awakening and freedom. Though sometimes the lessons are harsh, "I Believe in Unicorns" deals with that brutality in an original way. Fantasy, in this case, is not a distancing technique. Ironically, the addition of fantasy shows us more truth than reality would alone. Currently available on Vimeo on Demand, it's that innovative blend of two worlds that makes "I Believe in Unicorns" a worthwhile experience and a unique cinematic journey.
Reviewed by Indie Street's Sarah R Rice
Many a great idea has started over a cocktail! Want to meet fellow creatives, filmmakers, vendors, distribution & accelerator execs, and basically a lot of cool fun people...Well, come hang with the folks from Indie Street, BVEW, Dogfish, and Candy Factory. RSVP HERE
When claiming a band is "real indie", there is always a risk of being perceived as pompous, because a "real" indie artist probably wouldn't claim themselves as such. So first of all, the members of Tangerine didn't make this claim because they are genuinely too badass for that. And to make things clear: here is the definition of "real Indie" on our street:
An artist or group who is authentic and effortlessly cool while embracing the beautiful tight rope walk of creative expression and financial sustainability.
We were lucky enough to be invited to a garage venue at SXSW this year that made the artists and attendees feel like they stumbled upon a truly independent event. The small home was hidden in the outshoots of Austin, where only faint sounds of the huge crowds and Bud Light promotions could be heard in the distance. This is not to take away anything from SXSW and its efforts, the festival has just grown to such enormity that there is probably enough room to hold a second even more indie festival along side of it ala Slamdance/Sundance.
At this venue, this budding Indie pop band from Seattle, WA literally rocked the house. The burgers and dogs, the sweat drops flying from the musicians (naturally they had to keep the garage door shut since the cops had already given a warning), and the accessibility of the artists after the show all added up to a rekindled love affair with the Indie Rock show. I felt like a kid in the candy store, so naturally I filled up my now empty 20 oz can of Uber road soda and cooled myself down with whatever was in the keg.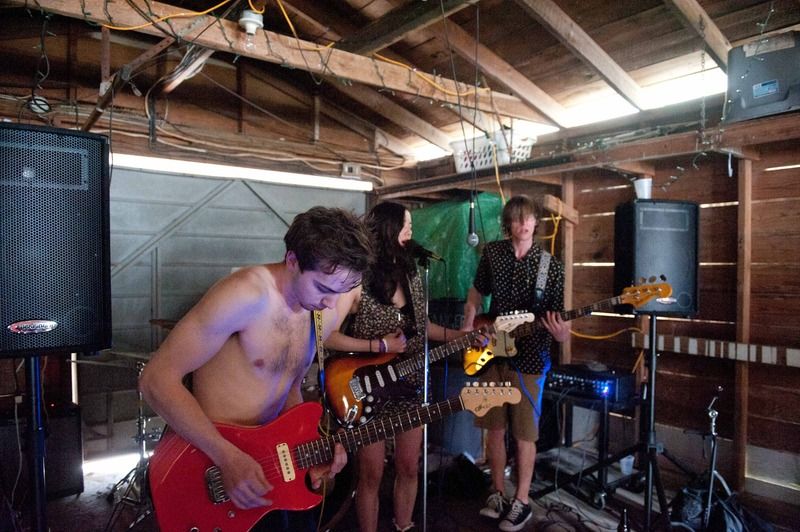 Getting to sit with the band after gave me re-assurance of what they were as musicians and people (which usually go hand and hand).
They were impressive on stage and authentically weird and magnetic while sitting on the lawn.
Here is one of their music videos, so you can judge them musically for yourself...their ripping lead guitarist is probably the featured talent amongst a group of very fun and talented musical artists.
Below is my brief interview with the lead singer, Marika where she talks about the band and their naviagtion of the Indie distribution landscape:
JWebb: How did Tangerine get started?
Marika: well Miro and I are sisters, and having been jamming on our instruments together since we were maybe 11 and 13 years old. I met Toby in high school and found that he's probably my favorite person to write music with. A couple years ago we decided to form Tangerine. I had just started working with Ryan, we booked bands for our university, and it was sort of like fate- he was a bass player looking for band right when we needed one. It all came together very naturally and it's honestly just been a lot of fun since day one.
JWebb: Who are some bands that have inspired you, and name a few non-existing band names of the future that you would love to inspire.
Marika: There's so many bands that have inspired what we do it's hard to know where to start..mazzy star, hole, haim, breeders, black lips, charli xcx, el perro del mar, velvet underground, sky ferreira, hinds, max martin, the strokes, lana del rey, lorde to name a few! As I said before, I'm inspired by things from both ends of the spectrum: everything from Taylor Swift to the Clash and the Strokes. Our music is kind of a melting pot.
As for future band names that we'd love to inspire...I've never been asked that before haha. Maybe we'll inspire more fruit-based names? There could be a whole fruit-based revolution. When I was sixteen i thought Leopard Limo was a great band name. No one else did though.
JWebb: We were lucky enough to watch one of your shows at a house garage venue at SXSW which really was an amazing intimate experience. How have you guys tried to balance "Staying indie" with the very real world need for artists to continue to generate revenue.
Marika: That was such a fun show! I'm glad you guys were able to make it, we love Austin. Musically, we naturally end up in a place that sort of straddles the indie/pop worlds. I like to think of our music as the Breeders meets the Strokes meets Charlie XCX. We've played some really amazing venues and some super DIY dingy spots and at the end of the day if the crowd is feeling it and giving off great vibes that's what makes it a good show.
JWebb: From your experience to date do you feel that it is more effective to hit the pavement and concentrate locally or have you found that there are any unexpected demographics or regions that have discovered and loved your music from internet sources.
Marika: Honestly we've wondered ourselves what's most important and I'm not sure I can give you an answer. the internet is amazing in terms of connecting you with people across large distances- we've been interviewed by people in the UK and have sold digital downloads all around the world, in places we've never been to. Nothing beats connecting with people in person on tour though.
JWebb: What has been your most successful fan building technique in the digital/internet realm? Any type of social media you guys really dislike?
Marika: facebook has been really instrumental in us reaching people but it's also incredibly frustrating. sometimes a huge number of people will see something you post from it, and sometimes almost no one will and it feels very arbitrary. I'm pretty sure it's all a ploy to convince you to pay for sponsored ads.
JWebb: Quick Story time - what is the best story that the band or one of its members has had (could be funny, inspiring, frightening, or all of above)
Marika: I'll keep this short because it's not really my story to tell but both Toby and Ryan have been robbed at gunpoint at different times. One of the stories is way more fucked up than the other but I think i'll leave that to your imagination. They both lived to laugh about it!
And the growing Tangerine band fan base is stoked about that! Sitting on the dirt patch outside the garage was really one of those moments where you feel you might be hanging with some people who are destined for greatness...and even if that train doesn't come fully into the station, it was still great to meet some genuinely cool people. I think their bass player summed up the gist of what it takes to be a real indie success. He told me his first key was to get honest about what kind of music you personally like and move your head too. Most of the stuff he listened to actually had some pop elements with a catchy beat and tempo. Trying to go completely outside of what you honestly jive to is doing a disservice to your work, your fans and in this case your wallet even. He explained that staying indie was more simply to stay working, because most musical artists have to pay rent and eat food to survive, which Indie filmmakers can relate to since we are also human! So mixing up venues from bars to garages to sponsored festival stages is all a part of it, while you work your ass of to collaborate and make music that you are proud of and that your growing fan base will love.
- Jay Webb, Indie Street.
You can follow all things Tangerine on Facebook. (photography by Nina Christensen)
Stop making products, deliver Relationships & Experience.
The Hollywood Reporter named Ted Hope one of the 25 most powerful people in the indie film business. The former CEO of Fandor and producer of 68 films was recently tapped as the Head of Production for Amazon Original Movies. In this first byte-size interview with Ondi Timoner, Hope explains how digital platforms are the future of bold, independent filmmaking and how technology is helping advance the "language of cinema."

Six of the Best Creative Commercials
Who said commercials are boring? They never saw these six gems, including this one Wilkinson, First Impression directed by Robert Nylund, Social Club. See the full list here
L.A. Hack: The Time An Artist Installed a Sign Over The State
Truly one of the greatest stories in the history of Los Angeles is that of Richard Ankrom and his quest to install a freeway sign that made the lives of L.A. drivers just a little bit easier.
It began more than a decade ago when Ankrom moved to downtown Los Angeles and took notice of a curious omission on the 110 Freeway. The I-5 exit, Ankrom saw, wasn't indicated on the green overhead sign that directed drivers as the freeway split between the 5, 110, and 101. Whether intentional or not, it was clear that the California Department of Transportation (known as Caltrans) had made a mistake.
Ankrom, an artist and sign painter by trade, decided to make it his personal mission to fix the error, install the correct sign, and do us all what he would later call an act of "guerrilla public service."